Judge Stephen Manley Superior Court California




Fair Use Content

Judge Stephen Manley Mandatory Group Homes




Fair Use Content

Group Home Living should be voluntary not mandatory. How can a Judge use this as part of probation for years.. I am not saying months but years.

—

One of two former

Pennsylvania

Judges

accused of taking millions of dollars in kickbacks to send youth offenders to for-profit detention facilities has agreed to plead guilty to a federal racketeering charge.
Lawless Mental Health Court Santa Clara County
Written by Alberta Rose Jones, October 20, 2010, copyright protected
This past week I have delved further into the unorthodox lawlessness of Santa Clara County's Mental Health Court overseen by Judge Stephen Manley. It has taken me several months of investigation to uncover the truth.
This is what I have uncovered. Santa Clara County's Mental Health Court was developed and founded by Judge Stephen Manley with the approval of the Judicial Council for the State of California and Santa Clara County's Board of Supervisors. In Judge Stephen Manley's Mental Health Court and Drug Treatment Court, defendants do not determine where they will receive treatment or where they will live. Judge Manley purposefully alienates these people from their family. Meaning he goes to great lengths to keep his program secret. Judge Manley is not secret about the fact that he "houses everyone under his jurisdiction in group homes". What is kept secret are the terms and condition of his programs and who is treating these people in what he terms his "mental health court."
For the mentally ill, he uses illegal tactics to place them in custody without probation violation hearings. You are not volunteer subjects either. You cannot refuse treatment or being housed in either his Sub-Acute Treatment Facilities or his group homes. Judge Manley is the only judge overseeing the "drug treatment court" and "mental health court" in Santa Clara County. Only one district attorney is assigned by Santa Clara County's District Attorney's office. The District Attorney assigned to oversee over 700 cases is George Chadwick. The team of professionals who are supposedly the drug treatment experts and mental health experts are from only one hospital i.e. Santa Clara County Valley Medical Hospital.
Judge Stephen Manley and the District Attorney for Santa Clara County basically have a one man show program from beginning to end for both drug, alcohol and mental health treatment. Only one hospital overseas the daily operations. No other local hospitals are involved. You are never given the opportunity to use your own "medical insurance" and if you are on medicaid.. you will be housed and treated where they want you. So the county has a revolving door.
In the case of Lindsay Lohan, Ms. Lohan was allowed to pick her own doctors and treatment facility. You will not see this in Santa Clara County. You are only allowed to attend Judge Manley and the District Attorney's programs. This allows the District Attorney and Judge Manley to have friends from the county run these programs and they are helping their friends make millions of dollars. The woman who runs the Santa Clara County's Sub Acute Treatment Program worked for the county jail for over 12 years before helping start this program for Judge Manley's Mental Health Court. I have calculated that Judge Manley is assisting county officials in the tune of over $8,000,000 plus. This is actually "socialism." California is strictly a democratic state. This is their "socialist" medical care.
Ms Lohan has her family. Judge Elden Fox of the Superior Court of Los Angeles is not involved in the daily medical needs of Ms. Lohan. Nor with Ms. Lohan's mother or father. You would not see Judge Fox issuing orders like Judge Stephen Manley. Judge Fox will be deciding Lindsay Lohan's probation violation at a probation violation hearing this Friday, October 22, 2010. Ms. Lohan's attorney Shawn Chapman Holley will not stand by idly if Ms. Lohan is forced back into jail. Motions and writs will be forthcoming. Noted: Judge Fox was assigned after the previous judge on Ms. Lohan's case recused herself i.e. Judge Marsha Revel.
Update October 22 2010 regarding Lindsay Lohan probation violation hearing. A real hearing not like in Santa Clara County. No hearings take place in Santa Clara County and if one is had.. you get an Alternate Public Defender that has no idea what the client wants or tries to get it to happen. Only county officials are involved no outside parties. Meaning you would not see someone who could afford the "Betty Ford Clinic" or for that matter any clinic other than "county run." I will be posting the files of Andrew Martinez. His mother had a clinic all lined up for him and the Santa Clara County Superior Court said no way. Andrew Martinez was sent to the dungeons in Santa Clara County to eventually die.
What is also interesting about Santa Clara County. The Superior Court Judge overseeing Judge Manley says that "judge manley" cannot be recused for bias or cause. This is what is really interesting about Santa Clara County. If you threaten to remove a judge for cause like Manley.. you are told you will go to prison to die. I have this on the record. The Judge who said this was Superior Court Judge Philip Pennypacker. I had an attorney ask the court who would oversea a case of Judge Manely's if Judge Manley was asked to recuse himself for cause. I was told that the case would go to the "meanest" criminal judge in the county of Santa Clara. Judge Pennypacker made these statements.
The very first drug treatment program was established in Dade County, Miami Florida. Here is how Dade County works their program as outwardly posted on their website under the Public Defender's Office.
Below is the typical drug treatment program. This is not what has been established in Santa Clara County California.
Drug Court Dade County Miami Florida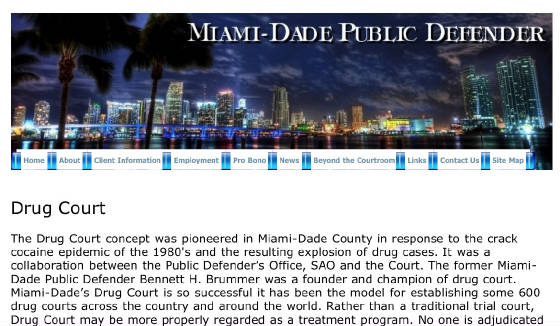 Public Information Records
Dade Country Drug Treatment Plan Program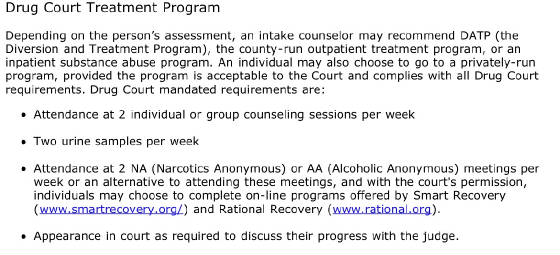 Public Records